Experts in the Digital Content Industry Recognize Cloudwords' Marketing Globalization Platform for its Ability to Speed and Simplify the Content Localization Process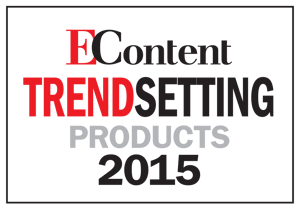 San Francisco, CA, May 4, 2015 - Cloudwords, the leader in cloud-based translation management and automation, announced that it has again been selected for inclusion in the second annual Trendsetting Products list by EContent magazine. The distinguished list acknowledges the products setting the stage for what has been called an atmosphere of uncharted territory within the digital industry. Cloudwords' marketing globalization platform was selected for the second year in a row for its enterprise-ready, end-to-end translation management solution that offers pre-built integration capabilities with industry-leading marketing technology to deliver a faster, simpler content localization process.
"Without the right tools, content localization is time-consuming, expensive and difficult to scale. Cloudwords is changing the way companies think about translation management and shining a much-needed light on the business benefits an efficient process can deliver, including accelerated project turnaround times and the ability to easily scale to deliver more content to more markets, faster," said Scott Yancey, CEO of Cloudwords. "We're honored to be recognized as a Trendsetting Product, and pleased to be included among the top companies in the digital content management industry.
"I rely on dozens of tools every day to get my job done. We all do, but tools are especially important in the digital media industry. Whether you are in need of a content management system to control your digital experience, or an analytics tool to tell you how you're doing, you need the right tools at every step of your journey. More and more, tools are going above and beyond, helping us do everything from predict which content will perform best, to predict when your readers are most likely to buy an umbrella. The tools available to us are pushing new limits," said EContent editor, Theresa Cramer. "Here at EContent, we turned to our inboxes, our coverage, and our contributors to find out what those trendsetting products are in 2015. We hope that you find these tools as interesting and as potentially helpful as we do!"
Compiled by the editors of EContent magazine, the products included were selected based on their uniqueness and importance to the digital content industry. The list of Trendsetting Products are featured in the May issue of EContent magazine and on the econtentmag.com website.
About Cloudwords
Cloudwords accelerates content globalization at scale, dramatically reducing the cost, complexity and turnaround time required for the localization of all marketing content. Cloudwords' enterprise-ready cloud-based software enables organizations to go global faster, engage multilingual audiences more efficiently, and generate increased demand and revenue in less time. Delivering strategic integration capabilities for all leading marketing automation and content management systems, Cloudwords is an integral partner in the localization process for Fortune 500 and Global 2000 companies worldwide, including Honeywell, Marketo, McDonald's, Microsoft and Verisign. Headquartered in San Francisco, Cloudwords is backed by Storm Ventures and Cloud computing visionaries such as Marc Benioff, founder of salesforce.com. Visit www.cloudwords.com for more information and join the global conversation on Twitter@CloudwordsInc.
###
Media Contact:
Sara Korolevich
Cloudwords
sarak@cloudwords.com
623.326.0881